Art of Fruit

A series of proposed graphic tee designs for Art of Fruit, Fruit of the Loom's annual, limited edition t-shirt release. Designs are meant to celebrate 170 years of the brand and are inspired by the iconographic fruit bunch logo and it's intersection within art, culture, and nostalgia.
For Everybody and Every Body
Curation of user generated content to showcase Fruit's new mission of creating quality products "for everybody and every body." Bright colors and confident outfits celebrate all of the people who proudly wear Fruit of the Loom.
Plain White Canvas
A white tee is way more than just a shirt, it's a blank slate bursting with opportunity. To show this, we invited Kendra Dandy, Morgan Makes, Bijou Karman, and Katie Kimmel to each create a piece of wearable art with a Fruit of the Loom white tee as their canvas.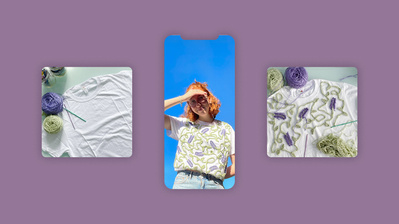 Roles
ideation
graphic design
art direction
curation
illustration
Credits
Agency: CPB
Creative Directors: Dana Angelo, Alex Rice
Senior Designer/Art Director: Syd Rein
Junior Copywriter: Madi Getgood
Junior Art Director: Riley Draper
Producers: Antoinette Rodriguez, Eva Hunter