Honu, the Hawaiian word for green sea turtle, is a sunscreen that comes in an innovative package designed to protect all of the hard-to-reach parts of your shell. Honu, an award-winning product, is all natural, biodegradable, and dedicated to conserving our reefs and ocean life.
Research
The ask for this project was to redesign the logo and packaging for Honu Sunscreen and future Honu brands. In order to get fully immersed on the project and find extra inspiration, I went to the Aquarium of the Pacific in Long Beach, CA and there we learned more about turtles, their living habitat, colors, textures and forms. Additional research included reading, watching documentaries, creating word maps, and painting watercolor forms. All of these materials helped to shape the concepts and design of the proposed Honu rebrand.
Direction 1: Cove
This direction features a pattern made of layered gradient circles that allude to a pod of sea turtle eggs and the texture of a turtle shell. The logo uses circles and half circles to evoke a swimming turtle, the sun, and the water. The palette is inspired by hues of the deep sea and tropical sunsets. To ensure clarity for consumers, the SPF factor is color coded and the strongest focal point.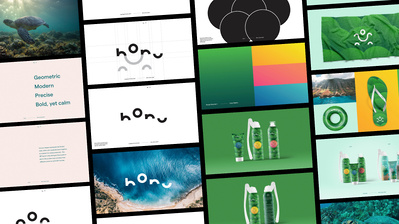 Direction 2: Reef
Inspired by tide pools and lush coral reefs, this direction uses playful shapes, vibrant colors, and fluid gradients to communicate Honu's dedication to protecting sea turtles, their habitat, and you. The logo is drawn with one continuous line and an "O" form that elicits a sea turtle swimming. The packaging design features illustrated forms depict the coral reef habitat that sea turtles reside in. The color palette is inspired by these reefs but shifts from warm to cool tones based on the product's SPF factor.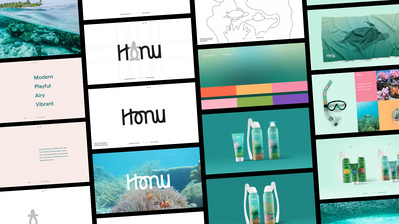 This project was done as an exploratory rebrand for Honu Sunscreen, under the Starco Group.
Roles
logo design
brand identity
packaging design
illustration
Credits
Agency: Deutsch LA
Head of Design: Adhemas Batista
Design Director: Jean-Lou Renoux
Designer: Syd Rein